Retirement announcement: Mark Wasmuth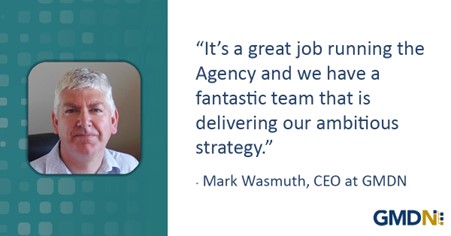 20 June 2022
After 12 years with the GMDN Agency, our CEO Mark Wasmuth has chosen to retire. The exact timing of Mark's retirement is likely to be dependent upon the appointment of his successor.

Following Mark's decision to retire the Board of Trustees will be looking to appoint a new CEO to take over the role. The intention is to facilitate a managed handover of Mark's responsibilities to ensure the smooth running of the Agency.
Under Mark's leadership, the GMDN Agency has made incredible progress. We now have more than 100 government member organisations regularly using the GMDN following the early breakthrough agreements with the US FDA in their first national UDI database and SNOMED CT, the world's most comprehensive clinical terminology.
In 2014 the GMDN Agency became a registered UK charity and thanks to prudent management of finance, the Agency has since maintained an independent and sustainable budget.
Changes were also made to GMDN membership with fees being removed for the Term's enquiry service by giving free access to GMDN Codes following stakeholder consultations. This has resulted in a 600% increase in membership in the past three years and the GMDN being used in more than 180 countries.
"It's a great job running the Agency and we have a fantastic team that is delivering our ambitious strategy." – Mark Wasmuth.
The GMDN Agency is as ambitious as ever, launching a five-year strategy with a vision for more services which support our goal of global harmonisation. Patient safety remains at the forefront of our work.
We are a small, driven team with an already global reach, but we aren't stopping there. We are looking to appoint a new CEO who shares our values to head up our team and lead the delivery of our strategy implementation.
Our board of trustees will be overseeing the process of choosing Mark's successor and have appointed Tracey Clarke, an experienced HR Consultant, to help with this activity.