New Senior Communications Manager joins the GMDN Agency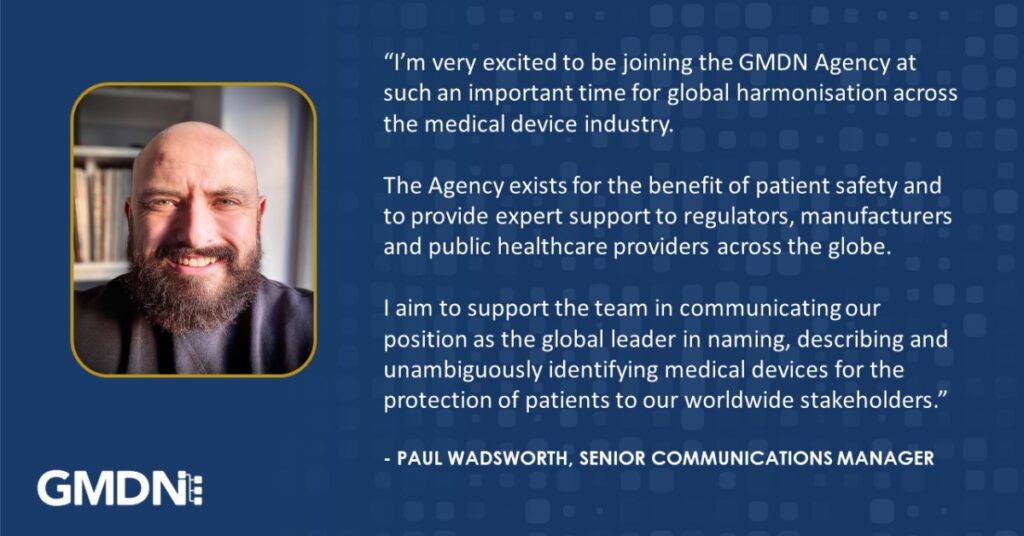 14 March 2023
The GMDN Agency are pleased to welcome a new team member to help us communicate our strategy and engage with all of our stakeholders.
Paul Wadsworth has been recruited as our Senior Communications Manager. He brings nearly 20 years experience as a senior communications professional across third sector and corporate environments. Paul Wadsworth, Senior Communications Manager at the GMDN Agency, said:
"I'm very excited to be joining the GMDN Agency at such an important time for global harmonisation across the medical device industry. The Agency exists for the benefit of patient safety and to provide expert support to Regulators, Manufacturers and Public Healthcare Providers across the globe.
"I aim to support the team in communicating our position as the global leader in naming, describing and unambiguously identifying medical devices for the protection of patients to our worldwide stakeholders."
If you are a communications professional within the medical device industry and would like to connect with Paul please e-mail
paul.wadsworth@gmdnagency.org