GMDN users help shape the future of medical device nomenclature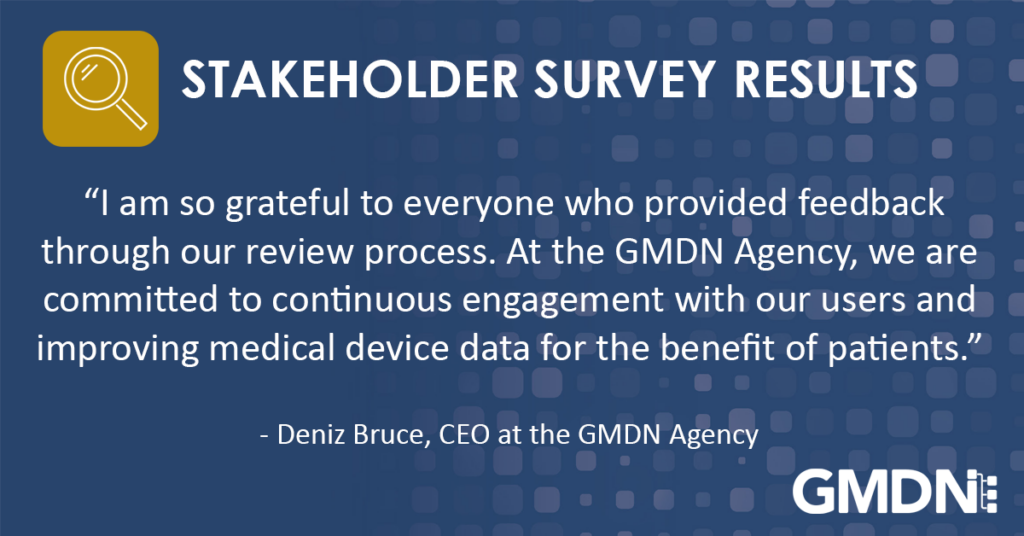 14 March 2023
The GMDN has been listening to the views of nomenclature users to help shape the future of medical device identification.
We have conducted an extensive review to determine what the GMDN's users think about the nomenclature and how it can be improved. We have heard from Regulators, Manufacturers, Medical Charities, Healthcare and Data Providers, as well as Patients and Academic Researchers. GMDN users provided their input through an online survey as well as in video interviews. They offered a wealth of valuable feedback, which will be used by the GMDN to define how we can improve our offer to users in the year ahead. The review covered a range of areas, including users' interaction with members of the GMDN team, how stakeholders view us, users' opinions on our strategy and our progress over the last year, as well as any specific changes users want to see to the nomenclature. We heard a range of views which will help inform changes in the year ahead. Some of the key points were:
71% of users said they were happy with their current level of interaction with the GMDN Agency, but 25% said they would like to hear more from us.
46% of people said they felt email contact is the most effective means for interacting with the GMDN, but 33% of users wanted more roundtable sessions and webinars.
Users felt the GMDN was generally viewed positively within the medical devices sector. However, with an average rating of 3.6 out of 5, this is an area for improvement.
93% of users agreed or strongly agreed that having a reliable, comprehensive, and harmonised nomenclature system is essential for the medical device regulatory system.
94% of users felt it was either important or very important for the nomenclature system to be harmonised and used by regulators across the world.
Deniz Bruce, CEO of the GMDN Agency said:
"I am so grateful to everyone who provided feedback to the review process. At the GMDN, we are committed to continuous engagement with our users and improving medical device data for the benefit of patients. The input we have received through the review will help us to achieve this as we take forward our ambitious strategy for 2022-2026 over the year ahead."