GMDN Code of Good Practice for Manufacturers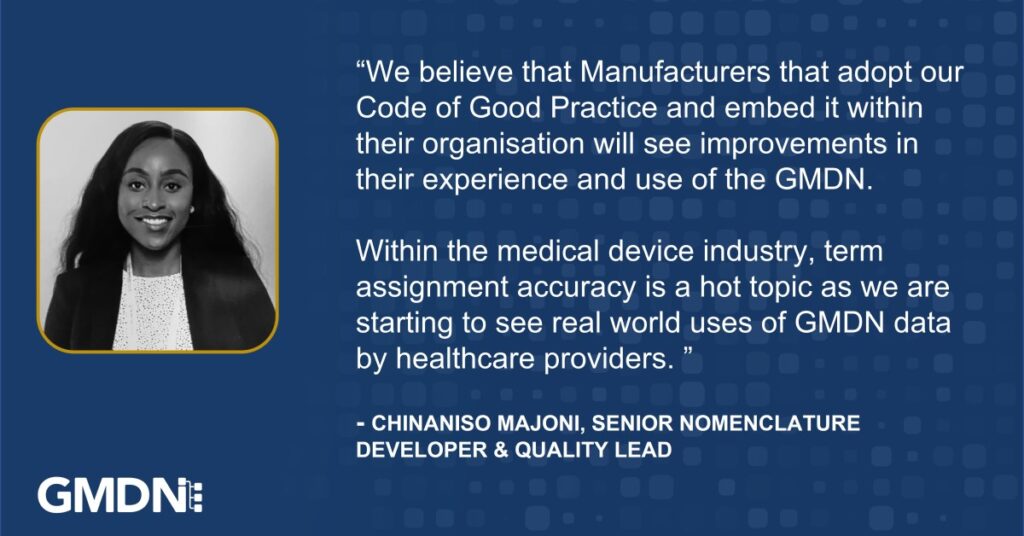 16 May 2023
An article about our suggested Code of Good Practice for Manufacturers written by Chinaniso Majoni, Senior Nomenclature Developer & Quality Lead at the GMDN Agency.
We've created a Code of Good Practice for Manufacturers that use the GMDN. We believe that Manufacturers that adopt our Code of Good Practice and embed it within their organisation will see improvements in their experience and use of the GMDN.
Within the medical device industry, term assignment accuracy is a hot topic as we are starting to see real world uses of GMDN data by healthcare providers.
These healthcare providers are looking at devices and patient outcomes based on device characteristics using the GMDN (for example looking at the performance of mesh implants based on the different materials that they're made from). That is one of the reasons why it is so important that Manufacturers use the correct GMDN code and keep up to date with any changes to the nomenclature.
Other benefits of using the GMDN correctly for Manufacturers can come via healthcare supply chain management, procurement, tendering and asset management, as some organisations are using the GMDN to catalogue and purchase medical devices.
The Code of Good Practice is designed to help Manufacturers correctly assign terms so that their products are included on procurement lists if considerations are made based on the GMDN.
Our GMDN Code of Good Practice for Manufacturers:
Have only one GMDN account
Identify who is responsible for GMDN in your organisation
Set user permissions and notification actions
Encourage staff to do training on GMDN and promote good practice
Send us enquiries in good time
Stay in touch with the Agency

If you want to know more about how to use the GMDN, please contact us
You can download a useful flowchart and guidance for Manufacturers to support their implementation of our Code of Good Practice below.