GMDN Agency attends The MedTech Forum 2023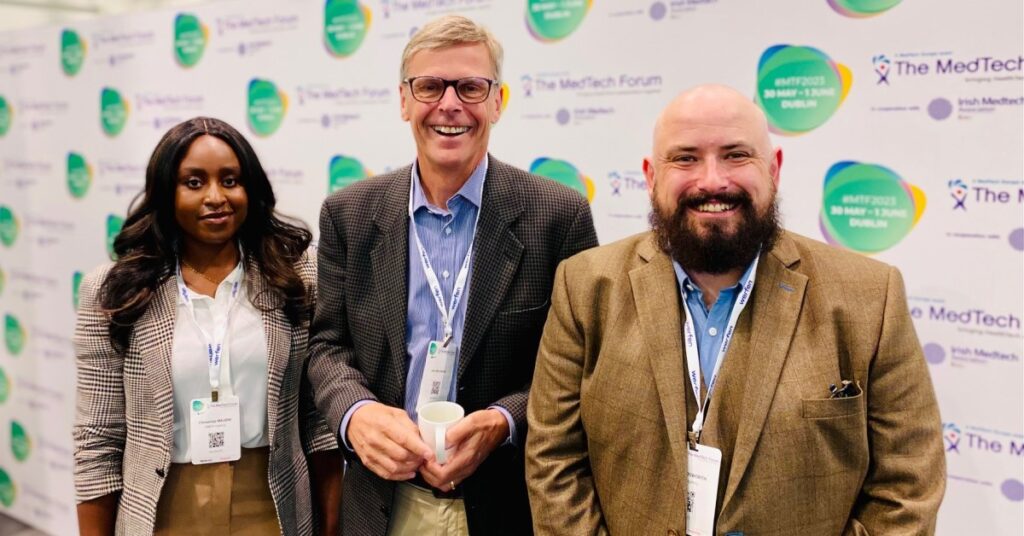 7 June 2023
Colleagues from The GMDN Agency attended the MedTech Forum 2023 event in Dublin.
The GMDN Agency Chair, John Wilkinson, Senior Nomenclature Developer and Quality Lead, Chinaniso Majoni and Senior Communications Manager, Paul Wadsworth, attended The MedTech Forum in Dublin last week (30 May – 1 June).
At the event they talked to the Agency's existing stakeholders and engaged with new ones highlighting the important work of the GMDN AGENCY (Global Medical Device Nomenclature Agency) and the benefits of a harmonised medical device nomenclature.
Paul Wadsworth, Senior Communications Manager at the GMDN Agency, said: "As a relative newcomer to the world of medical devices and technology this was a fantastic event to attend to appreciate not just the scale of the industry but the huge impact that it has on health outcomes in patients.

"Much of the conference was spent discussing the need for harmonisation across the sector. The GMDN has a vital role to play in supporting this becoming a reality. Having a single medical device nomenclature will enable safer patient care, foster collaboration within the medical device industry, and support global harmonisation of regulatory requirements."
The MedTech Forum is the largest health and medical technology industry conference in Europe and was attended by industry leaders across the Manufacturing and Regulatory landscape.
Paul continued: "I passionately believe the GMDN provides the best way forward for international medical device regulatory harmonisation and convergence. With more than 70 Regulators across the world already using the GMDN we are at the forefront of making this a reality."
Senior Nomenclature Developer and Quality Lead, Chinaniso Majoni, added: "This was my first MedTech conference post-pandemic and it was good to see that the commitment to harmonisation is ever strong, and there is a keenness to implement lessons learned from the pandemic, particularly on regulatory reliance. The GMDN's core function is to support harmonisation efforts globally and therefore I look forward to engaging widely with stakeholders across the MedTech industry, and exploring innovative ways in which the GMDN, as a key resource, can continue to support the industry towards convergence."