Case Study: Boston Medical Center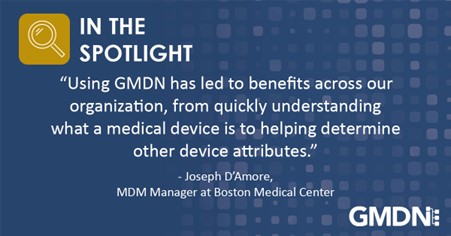 15 February 2022
GMDN and Symmetric help deliver state-of-the-art UDI-DI system at leading New England hospital. Boston Medical Center realised that a system built around a clear single source of standardised data was essential to provide patient insights.
A new UDI-DI system that uses the Global Medical Device Nomenclature (GMDN) and other public data sources to create a standard master data set has brought dramatic improvements at Boston Medical Center (BMC), a leading US hospital with nearly 500 beds and more than 130,000 visits to its ER per year.
"Using GMDN has led to benefits across our organization," said Joseph D'Amore, MDM Manager at BMC, "from quickly understanding what a medical device is to helping determine other device attributes." GMDN terms provide a valuable reference in creating standardized product descriptions for both clinicians and inventory coordinators. GMDN terms' nuanced device classifications and hierarchies are also useful in accurately assigning charge codes and revenue codes for cost accounting, meaning that supply chain and clinicians spend dramatically less time dealing with reimbursement problems with payers and preparing fiscal year budgets.
"We are glad to see hospitals and healthcare organizations, in the US and beyond, using GMDN as a tool to achieve more accurate master data sets," added Mark Wasmuth, GMDN Agency CEO.
Symmetric Health Solutions' medical supplies database and web application, which include GMDN as a data source, have powered BMC's data mastering efforts, including mapping its 32,000 line item master and 500,000 line contract master to corresponding GMDN terms via classification and matching algorithms.
In 2013, the United States FDA mandated that its national system for post-market surveillance of medical devices and patient outcomes needed significant improvements. Hospitals have since been grappling with this requirement, while simultaneously managing the challenges of a constantly growing range of available medical devices.
For instance, even simple hospital management tasks such as procuring the right supplies at the right price, quantity, and time is an enormous task when it involves hundreds of thousands of items from thousands of domestic and international suppliers. Further, hospitals are tasked with measuring contract compliance and controlling inventory levels — and ultimately evaluating patient outcomes of different devices.
However, hospitals and stakeholders across the supply chain continuum, from manufacturers to registries, have been unable to gain insight into specific medical devices due to siloed device databases.
BMC realised that a system built around a clear single source of standardised data was essential for ending these problems and delivering dramatic benefits. Initially, it considered creating its own proprietary solution to classify all of the products in use, but soon rejected the idea given the exorbitant cost of creating and maintaining such a dataset.
At this point the hospital brought in Symmetric, who brought the vision of making a medical device's UDI the single source of truth that BMC needed by using public classification sources such as the GMDN.
"Manufacturer GMDN assignments to UDI-DI are critical to understanding medical devices across the healthcare continuum," said Rich Kucera, CEO of Symmetric Health Solutions. Symmetric cleansed BMC's item data ahead of its ERP migration in 2019. As a result, when BMC went live with the Infor CloudSuite ERP system, items were connected to UDI-DI's, GMDNs and other critical attributes, ensuring that clinicians could now scan items to quickly identify them and record their use. This information, as well as related data from other departments and internal stakeholders, was not previously centralised or standardised. Now, however, the cleansed and recorded data can provide clinical and hospital management insights.
In addition to the important benefit of standardised information now going into patient medical records, the system has, as intended, dramatically improved hospital operations. Measuring ROI on IT projects can be hard, but BMC believes the project's ROI to be over 400% in its first year.
For instance, when the Covid-19 pandemic struck in early 2020, the use of the GMDN in its inventory enabled the hospital to quickly source new equivalent suppliers of PPE and order them pre-emptively. As a result, BMC had sufficient PPE throughout the pandemic, and it did not experience a single shortage.