Being a part of GMDN's growth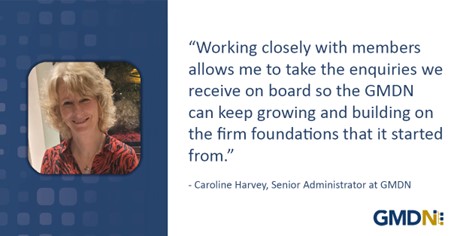 8 March 2022
Caroline is our longest-standing team member with 20+ years of experience working for GMDN and supporting it's growth. On International Women's Day 2022, we looked back on some of the best bits so far.
At GMDN, women make up half of the staff and trustees in the team who are striving for growth and harmonisation across the medical devices industry.
Caroline is our longest-standing team member and on International Women's Day 2022 she shares how GMDN has changed over the years and remembers some of her best bits.
"I have been involved with GMDN for 20 plus years now, having originally got involved when the company was a starting project in a small office space on home premises. In this time, I have been privileged to see it grow to the company it is today with its own office space and wonderful team that facilitate the smooth running of the GMDN."
After getting more and more involved with GMDN, Caroline's big memorable project from the early days was the first issue of the GMDN being published. This was back in 2002 where it was sent out on a CD-ROM by post. Looking back over the 20 years since this launch, you can see clearly how much the data has evolved. Imagine trying to fit all the data available today onto a small CD!
You can read more about our history here: www.gmdnagency.org/our-history
"Around 2010, when Mark started as the Chief Executive, my role at the GMDN Agency started to change and I had more responsibilities. I became a point of contact for member's questions, and this gave me a deeper understanding of the company and the importance of the terms to our members."
We've included some of our regular enquiries in our FAQs: www.gmdnagency.org/faqs
A few years back Caroline became our Senior Administrator, being a key contact for larger companies that register with GMDN. She also stepped into an accounts role, dealing with suppliers first hand.
But what is it that had made her stick around all these years?
"As I became more involved with GMDN I found the role more and more interesting with lots of opportunities for me to learn new skills. I've been able to grow with the company, connect with members and no week is ever the same.
I really enjoy that feeling at the end of the day where I know I have helped others with their work and supported them to get the most out of GMDN."
There are lots of things to look forward to over the next five years with the launch of the GMDN strategy spanning 2022 – 2026. The whole team will be working hard to make our ambitious projects a success.
"The strategy was designed to help support existing and new members and connect with them to continually improve our service. It's an exciting time! Working closely with members allows me to take the enquiries we receive on board so the GMDN can keep growing and building on the firm foundations that it started from."
"It's changed so much in 20 years that it is hard to remember so far back at times.
It can all feel a bit of a blur, but I can definitely look back on my time with GMDN and think how far we have come, how many exciting plans we have for the future and how amazing it is to be a part of it all."