GMDN Agency announces new CEO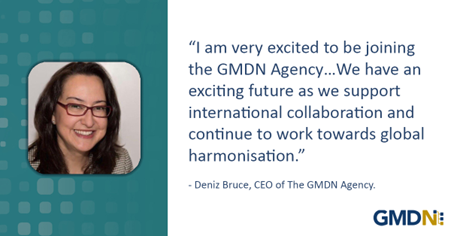 9 November 2022
The board and team at GMDN are delighted to welcome Deniz Bruce as our new Chief Executive Officer.
"Specialising in strategic planning and implementation with medical devices, pharmaceuticals and biologics, Deniz has a proven track record of delivering challenging targets and change management, in addition to the vital skills needed to drive forward our strategy focusing on external stakeholder engagement and patient safety. She is passionate about people development and dedicated to nurturing talent.
"Deniz has a strong knowledge of the sector and has held global leadership roles across a diverse range of pharmaceutical organisations and product portfolios.
"Deniz's appointment follows the decision of our previous Chief Executive, Mark Wasmuth, to retire. Mark will be supporting this leadership transition and serving as a Strategic Advisor to the delivery of critical programmes for the GMDN Agency until the end of March 2023.
"We would like to take this opportunity to thank Mark for his incredible achievements in growing and developing the GMDN over the past 12 years, and we look forward to the beginning of this new phase of GMDN's work under Deniz's leadership."
– John Wilkinson, Chair of the Board of Trustees.
"I am very excited to be joining the GMDN Agency. GMDN aims to preserve and protect health and to relieve sickness for the public benefit by developing and maintaining the 'Global Medical Device Nomenclature', a single common language for all medical technology and for it to be adopted by medical device regulators, manufacturers, healthcare providers, and other participants in healthcare systems worldwide. I could see the great potential in the agency, fulfilling the need for global harmonisation in collaboration with our stakeholders.
"Knowing the value of the skills and expertise required to deliver such a complex and critical task, I have been impressed by the quality of our people, the strength of our culture, and our stakeholder relationships, which provide firm foundations to build in the years ahead. We have an exciting future as we support international collaboration and continue to work towards global harmonisation.
"I will work with Mark on a seamless transition and thank him for the guidance he is giving me."
– Deniz Bruce, CEO of The GMDN Agency.